Limited livelihood opportunities for forest-edged communities in the rural parts of Africa have created a dependency on forests for economic and social benefits. As a result, forest and marine resources face exploitation, leading to habitat destruction and loss of biodiversity including a rapid decline in the population of critical species such as chimpanzees and hippopotamus. This painful reality is threatening the very survival of the Gola Rainforest National Park (GRNP) in Sierra Leone.
To mitigate community dependence on the forests, GREENLIFE West Africa with support from the Critical Ecosystem Protection Fund (CEPF) implemented a project on beekeeping from October 2021 to March 2022. The project was implemented in Koya and Barri chiefdoms, two of the six chiefdoms located close to the Gola Rainforest National Park.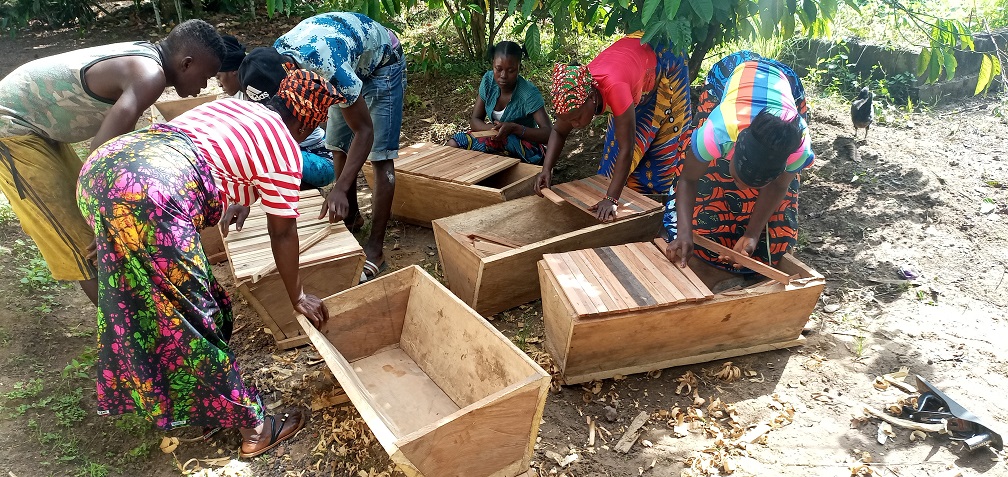 Twenty participants were trained to construct and maintain three beehives each. They also learned the appropriate use of beekeeping materials and equipment such as smokers, veils, gloves, wax, and Personal Protective Equipment (PPEs). The capacity-building activities ended with training on marketing honey and its by-products such as soap, shoe polish, lotion, and juice.
Community members were also sensitized to the importance of trees for effective pollination and for the bees to produce more honey. Now communities conserve their trees because they know the trees are vital to the success of the honey production business.
With community members now practicing sustainable alternative livelihoods, unsustainable practices such as shifting cultivation, illegal mining, wildlife hunting, and illegal logging are reducing, thus 20,000 hectares of the GRNP near Koya and Barri Chiefdoms are being conserved.