The Nature Compact (TNC) is a legally registered non-profit-social-enterprise environmental organization based in Liberia that specializes in natural resources management and human development. The Nature Compact also provides and supports policy intervention and scientific research to evaluate the impact of interventions around natural capital. The organization also develops and provides technical guidance for awareness and education initiatives aimed at fostering broad-based participation of all stakeholders in natural resources management, ecosystem adaptation planning and decision-making while mainstreaming gender and social inclusion principles. TNC works through community-based interventions to develop strategies aiming raise awareness, develop skills and capacity for local resource users to become stewards of natural resources. TNC works with partners such as GREENLIFE West Africa to facilitate and strengthen private sector engagement in sustainably manage human and natural capital through engagement, research and advisory services.
Coastal Environmental Watch Organization
Coastal Environmental Watch Organization Sierra Leone (CEWO SL) is a community-based organization focused on the preservation of the coastal environment of Sierra Leone, especially towards preserving all marine species most especially those under threat of extinction including mangroves. CEWO's core mandate also extends to raising awareness and conducting training on the management of coastal environments in the Sherbro River Estuary, Bonthe District. Although much has been done to raise awareness towards preserving the environment, especially marine species, the inhabitants of communities where such sensitization had been conducted, have reversed to their usual unsustainable lifestyles ignoring the best practices of conserving the environment.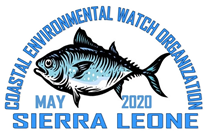 Green Africa SL is an indigenous, non-profit organization that was established in June 2009. The organization operates primarily in the Eastern and Southern Provinces of Sierra Leone. Green Africa SL works "to address the interlinked issues of poverty, social justice, and the environment." With a policy of simultaneously addressing issues of food security and incomes for the poorest households in a sustainable environment, the organization works with rural women and youth and strives for economic empowerment of the disadvantaged sections of the Sierra Leonean population.
RAP-SL was conceived in April 2012 with the vision of bridging information gaps, through research, on reptiles and amphibians of Sierra Leone. RAP-SL also aims at implementing programs for conservation and sustainable development through site activities that will not only benefit the biodiversity of the country but also help improve living conditions of the local communities in Sierra Leone. RAP-SL came to fruition in September 2012 with a mission to document all reptile and amphibian species of Sierra Leone and promote the protection, conservation and management of Sierra Leone's natural resources for sustainable development.
Farmers Associated to Conserve the Environment
Established in 1998, FACE has over 30 years of experience in forest biodiversity management and over ten years of experience in community forestry engagement and community livelihood initiatives. FACE has developed policies for specific ecosystems, especially mountain, wetland, and mangrove and has vast experience in landscape assessment and restoration as well as rehabilitation of degraded sites.